i5s | Smart Spot Welding System
Availability:
3 in stock, ready to be shipped
Cost & Delivery
For pricing, shipping, and delivery, fill out the 'Request a Quote' form below. Please include your phone number in the message.
OEM Approvals | Components List | Knowledge Centre | Brochure
The new Pro Spot i5s Smart Spot Welding System comes equipped with the industry's most advanced adaptive auto welding technology and robust on-board training resources. The i5s advanced welding control system senses, reacts and adjusts welding energy based on material composition, thickness and resistance properties in real-time.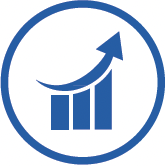 NEXT GENERATION AUTO WELDING TECHNOLOGY
Transformer-Gun Spot Welder, Water Cooled to the Tips.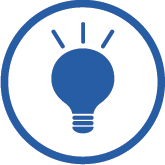 ON-BOARD WELDING PROGRAMS & TRAINING MATERIALS
Knowledge Center for Quick and Effective Training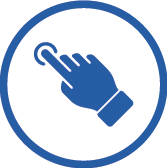 ON-GUN DISPLAY WITH FINGERTIP CONTROLS
Quickly Adjust Settings, Increase Productivity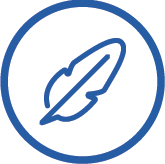 ERGONOMIC, WELL BALANCED GUN, EASY TO USE
Free Movement with Dual Action Rotation - Limitless Gun & Arms Positioning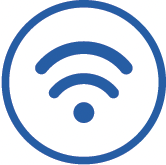 BUILT-IN WI-FI, SMART SOFTWARE & DATA TRANSFER
Instant Software Updates, Ability to Email Welding Logs
AUTO WELD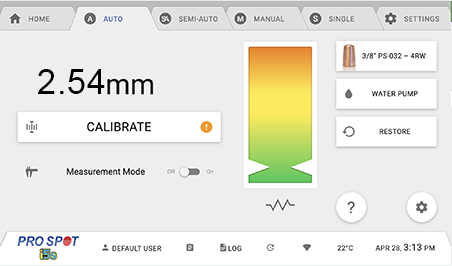 MEASURE

At the press of a button, the i5s measures the thickness of the metals automatically using the latest optical technology.

SENSE

The i5s senses the metals to be welded from a pre-delivered current to determine the type of metal.

WELD

The i5s features a new cable-gun. Based on the thickness and resistance feedback information, the i5s delivers the correct weld power every time, regardless of type of metal or thickness.
ON-BOARD TRAINING
The i5s makes training easier than ever. The i5s' built-in WiFi allows users to connect directly and quickly to access training videos and materials

Train directly on the machine with onboard training videos and files. The i5s has built-in headphone jacks and speakers to help with training. It doesn't matter if it's a loud shop environment or quite space, plug in or turn up the volume for the speakers to start training instantly.

Explore more than 25 educational training videos right on the i5s spot welder. These videos have been carefully curated to streamline and enhance the training process for body shop technicians. From initial user setup to arm replacement, the video library covers a comprehensive range of topics, ensuring a seamless learning experience.

WATCH i5s VIDEOS NOW›
NEWLY DESIGNED TRANSFORMER GUN
The new Pro Spot i5s Transformer Gun is lightweight, ergonomic, maneuverable, versatile and easy-to-use. It features unique digital display, as well as fingertip controls allowing technicians to view and change settings on the go without returning to the welder and disrupting welding process.

Superior design allows for quick and easy arm changes. Rotating bracket and arm provide a full range of motion, allowing technicians to access any spot on a vehicle.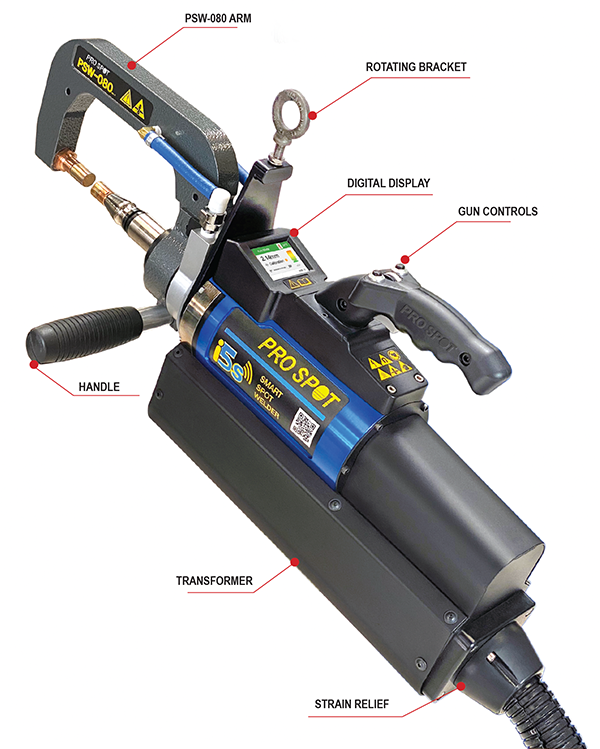 WIRELESS CONNECTIVITY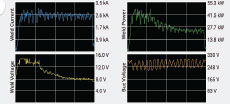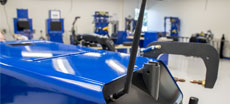 Featuring integrated WiFi, the i5s enables users to swiftly establish a connection, granting immediate access to the latest software updates, training videos, and content. Seamlessly maintaining and troubleshooting your equipment is now more convenient than ever, as you can effortlessly share information with Pro Spot for rapid and effective issue resolution. This functionality minimizes uncertainty and downtime, enabling workshops to sustain their productivity and profitability.
Instant Training Access
Enjoy connectivity with the i5s' embedded WiFi, facilitating direct and rapid access to training videos and resources
Log Export Capability
This wireless connectivity empowers users to export weld logs, fulfilling the growing requirements of OEMs, insurance firms, and certification programs.
Effortlessly export logs to your preferred email address or directly onto a USB drive.
ARMS AND ACCESSORIES
TECHNICAL SPECIFICATIONS
Input Voltage:

3 phase
208 - 240V 50/60HZ
400 - 480V 50/60HZ

Welding Amperage:
12,500 Amps (DC)
Cable Length:

Power Cable 30' (10m)
Weld Cable 16.4ft (4.9m)

Electrode Force:
Liquid Cooling System:

Radiator/Pump Active Loop Cooled To Electrode Tips

Microprocessor:
Wirelessly Upgradeable Software Platform
Protection:
IP 21
System Weight:
385 lbs. (174.6kg)
FEATURES

In Gun Display Screen
Finger Tip Controls
Water Cooled Gun & Arms
360 Degree Arm Rotation
WiFi Connection - On-Board WiFi
Software Updates Always Available
Built in Audio and Video Playback
Touch Screen
Auto Weld Mode
Manual Weld Mode
Semi-Automatic Weld Mode
PLEASE NOTE: Design is subject to change